In case you are losing count, the newest ACORN revelations are; Patrick Gaspard, the "Karl Rove" of the Obama Administration, previous employer was Bertha Lewis, CEO of ACORN. Gaspard worked as Lewis's political director. It is because of this connection and the fact that Lewis has Gaspard, home phone, cell phone, private email address and phone number of his brother, that many are speculating that ACORN has daily access to President Obama. Obama has failed to make any comments about the prostitution videos that Big Government.Com release, claim to "know nothing about them."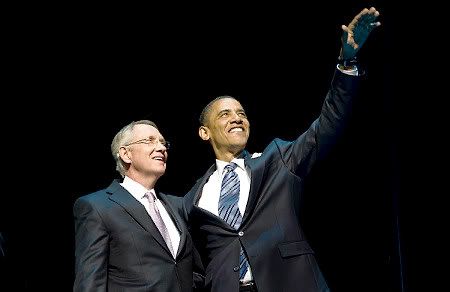 The other development in the ACORN case is the fact that despite overwhelming votes in both the House and Senate to defund ACORN from receiving federal tax money. Senate Majority Leader Reid has denied the request from Senator John Cornyn and 27 other Senators to investigate ACORN, the statement from the Senate Democrat Website:
"Senator Reid has already denounced the actions of the ACORN employees. He strongly supports the investigations reportedly already underway by the Department of Justice and other federal and state entities. Contrary to Senator Cornyn's misleading statement, Senator Reid is not blocking Senate committees from investigating ACORN if they deem appropriate.

"In contrast, while our troops were left with inadequate equipment and the American taxpayers were being fleeced by war contractors; and while thousands of victims of Katrina suffered loss of life, livelihood and their homes, Senator Cornyn turned a blind eye to these problems voting numerous times against investigating the causes of these events.

"Given how hard he fought to protect the Bush Administration from oversight at the expense of our troops, taxpayers and Katrina victims, it is clear that his new found interest in oversight is not real, but just another partisan ploy from the head of the Republican campaign committee."

Really? A distractions! This is straight from the politician playbook, when you are covering up, downplay then distract and finger point. Oh, yeah and throw in the troops for good measure. Well, Mr. Reid, that is not going to work anymore. Could it be the real reason you don't want an investigation on ACORN is because in your very own state of Nevada has a major investigation of voter registration fraud? This Editorial is from the Las Vegas Review Journal on Sept. 25, 2009.
Here in Clark County, Registrar of Voters Larry Lomax said last year he saw "rampant fraud in the 2,000 to 3,000 registrations ACORN turns in every week," with some 48 percent of those forms being "clearly fraudulent."
The Las Vegas headquarters of ACORN, "a Democrat-allied organization," was raided after being "accused of submitting multiple voter registrations with duplicate and false names," the Washington Times reported last fall. The outfit claimed it had registered to vote in Nevada, among others, the starting lineup of the Dallas Cowboys.
The raid "set off a skirmish over efforts to expand the electorate on behalf of Sen. Barack Obama," the Times reported.
Mr. Lomax noted ACORN had hired 59 inmates from a work-release program at a nearby prison and that some inmates who had been convicted of identity theft had been made supervisors. "That led some local wags to joke that at least ACORN was hiring specialists to do their work," reported John Fund at The Politico, last November.
ACORN's 2008 Las Vegas field director, Christopher Edwards, pleased guilty last spring to two gross misdemeanor counts of conspiracy to commit compensation for registration of voters, in a deal that saw him agree to testify against fellow defendants.
Would that be the reason, Senator Reid??