After informing the IOC (International Olympic Committee) earlier in Sept that President Obama would not be attending, the White House announced Monday that the President would be joining the First Lady on the trip to Coppenhagen to promote Chicago's bid to host the 2016 Olympics. The First Lady left on Tuesday and the President Obama will leave on Thursday making the 3,979 mile trip on separate airplanes. This unexpected announcement is drawing a lot of criticism; mainly this is the first time that an American President will attend an IOC vote. Even CNN is calling this a political risk.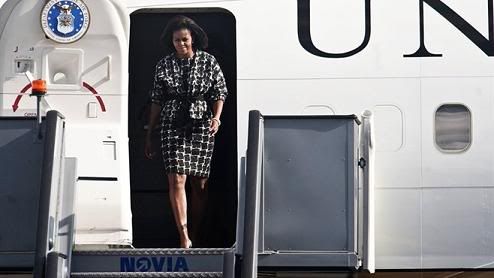 Less than a month ago, there where 1.8 million people in DC, telling congress to stop wasting our tax money, the taxpayers will pick up the tab for both jets. The (CRS) Congressional Research Service report cited two cost estimates for an hour of air travel by the president, vice president and first lady. Using the CRS cost estimates and the inflation adjuster from the Bureau of Labor Statistics, the cost for the one way 7.5 hour trip from DC to Copenhagen on the first lady's plane would be $29,532. White House Military Office) to $107,717 (U.S. Air Force) The cost for the president to fly Air Force One on the one-way 7.5 hour trip from DC to Copenhagen is approx $343,448 White House Military Office) to $567,089 (U.S. Air Force).
With the tough economic conditions right now, I am trying to look at the glass half full, but I am having a hard time making work. Did this trip create any jobs? Well the staff on Air Force One and the First Lady's plane, but as I understand it, they are pretty much hired. Did the President cap his carbon emission or trade any carbon credits? Yeah.. that is also a tough one to call. I guess you could argue all those jobs for people in Chicago if their city gets pick, oh wait…. I think the money in the stimulus bill will be paying for that.
The President and First Lady were also joined by, Oprah Winfrey, Secretary of Transportation Ray LaHood, and Secretary of Education Arne Duncan. That's nice, should I ask the question that I know every one is thinking? I should. Why didn't they take Oprah's Plane? The answer: Oprah has not escaped the tough economy unscathed, according to Forbes she came in 141st on their
"super rich" list
after losing 400 million dollars last year, OUCH!
Laura and Michelle
Related Articles
John Boehner Blasts Obama's Olympic Move
Chicago's Olympic Bid: An expensive proposition